Whether you're getting a hundred people together or a couple thousand, you have to treat it like a professional meeting. Gone are the days of winging it with notes on flashcards. Today's business meetings and presentations are more akin to a show. If you have something to say, you have to show it. And with any show, you have to be prepared. Here are a few questions that experienced agencies ask when planning a professional meeting.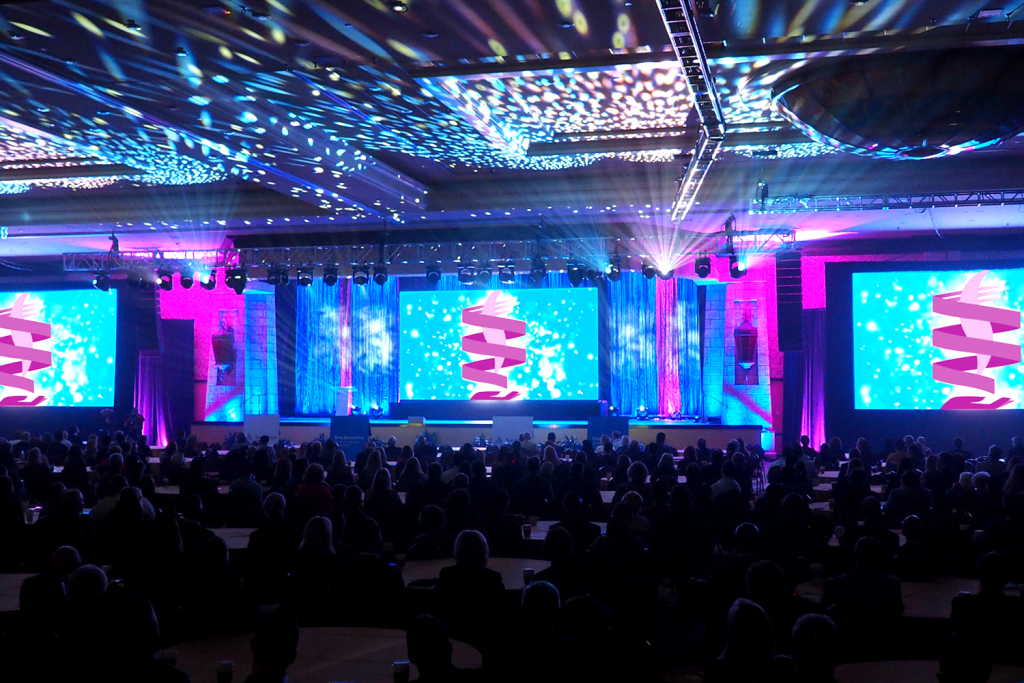 What Do You Want to Communicate?
If you have the fundamental mission of getting people together for a meeting, convocation, or gathering, it's because you have something to communicate. Once an agency helps you nail down the precise message or idea you want to communicate, a strategy for that message can then be devised backed by an overall vision.
Similar to how a football team practices plays and goes into each game with a strategy, an agency helps a business break down the main message into key points and organize them in a way to win over the audience. The message delivered has to be more than just, "We want to increase sales. Go team!"  The audience is expecting the speaker to have thought out a whole strategy so that at the end everyone can say, "Oh, I get it."  However, in order to do that, you need to have a strategy that connects each point starting with your opening message, leading all the way to the final sendoff.
What Are the Best Tools to Relay Your Message?
A meeting or presentation is more than what you want to say. It's about how you communicate those words. Lighting, music, and visual cues are all a part of maintaining the audience's attention and punctuating key points. Projecting an inspirational video with customer quotes showing the product, all set to a motivational song, will make much more of an impact as an opening statement than just saying, "We had a great year."
The technology that's available now has led to presentations feeling like a Vegas show. However, is a crazy light show with loud rock music the best way to relay your message? When you partner with an agency, they can make the best recommendations that emphasize your message and fit into the determined strategy – not distract from it. A unique take-home item might be a better fit for some brands. Aligning the right tools with the physical and mental takeaways are key to making an impression that will stick with audiences for months to come.
How Will You Inspire the Audience?
Throwing a bunch of data and stats on the screen isn't going to necessarily light a fire under your audience. People don't want to be inundated with data – they want to be inspired. You need somebody on stage who is able to articulate and can speak their language. It may not be just the CEO, but it should be someone that the audience respects and will want to listen to. A professional agency can help you identify the best person for the job.
People can never get enough appreciation, gratitude, respect, and praise. This is one of the easiest ways to win over the audience that many businesses forget about. However, thanking your company, workers, or shareholders only goes so far. When you collaborate with an agency that has been doing this for decades, they can work with you to figure out what exactly will recognize and inspire the audience.
Are You Ready to Host a Professional Meeting?
Are you effectively communicating business goals and success stories through a message-driven strategy that gets people excited? If that's not the case, then why bother? The goal of the best agencies should always be to stage something that's thought-provoking, inspiring, motivational, and that communicates your strategy. Because, in the end, a meeting isn't just a meeting.
Learn more about planning a successful meeting by contacting Chris Jobst at 314.206.7804 or ChrisJ@switch.us