People use to put their head up to storefront windows to learn about a business and if they wanted to shop there. Now, consumers have an easier and smudge-proof way to "window-shop." All you have to do is go to a business' website to get an idea if they are right for you.
Your website will determine if someone wants to purchase your product, use your service, or believe in your brand. Not only that, but they will make this decision within seconds of being on your website. It takes less than 15 seconds for a website to capture someone's attention. Within seconds, you could lose a potential customer. From the user experience to the photography to the words used to describe your brand, you need to treat your website like a digital storefront and realize its impact on attracting new customers.
Switch recently completed a massive redesign for one of our clients, KUNA Foodservice. This complete overhaul included a new layout, custom video and photography, SEO-focused copy, and multiple new pages added to their site map, just to name a few of the major changes. The multi-month process required a sound strategy and many moving parts. After all was said and done, the website  – which you can find HERE – is now more informative for new customers who might be in the research phase while still maintaining a brand-focused experience for existing clients. Whether you are considering a minor facelift with a few updates or a complete rehaul of your existing website, consider these tips that helped us deliver an effective website.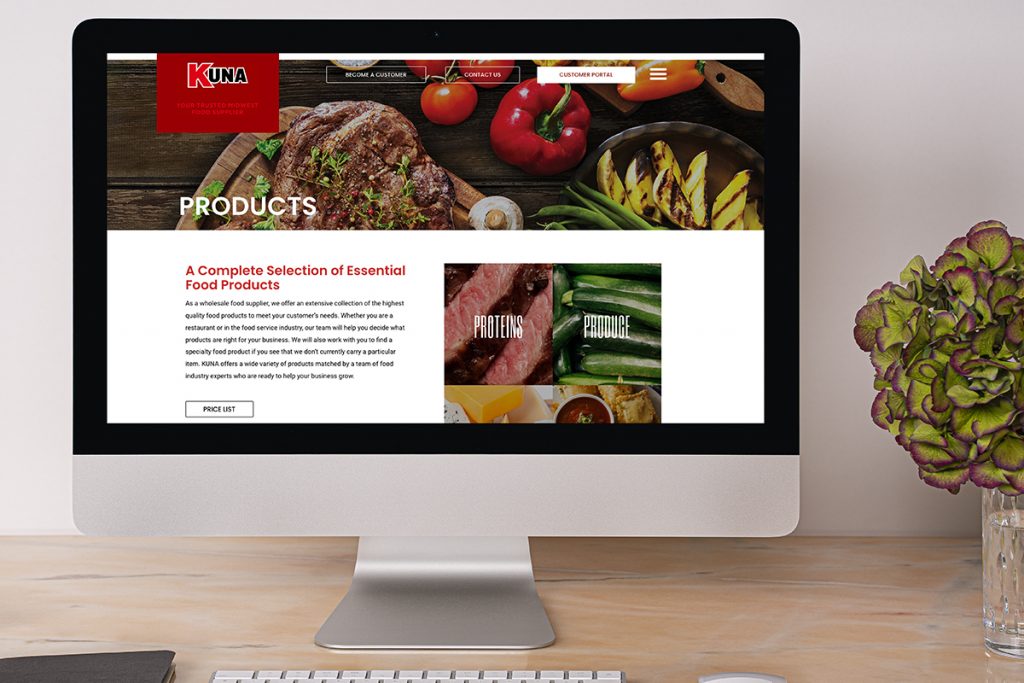 1. A firm understanding of why a redesign is necessary
Regardless of how in-depth you take it, redoing a website is not an easy task to be taken lightly. However, it might be necessary if your current site isn't providing your target audience with the right experience for your brand. Asking the tough questions and thinking about what goal you want the site to achieve is essential at the beginning.
 2. Define and research your current and target audiences
Early on in our process with KUNA, we did a day-long working session with their team to discuss these two categories. After audiences were clearly defined, we did a deep dive into what their customers are searching for in a food service provider and understanding what their competitors are doing in the digital landscape. This helped us not just offer a website, but establish a new, more impactful brand and voice for KUNA.
 3. Map out the desired user journey
Your customer came to you looking for gold, so you might as well give them a map to the treasure. A customer shouldn't have to work hard to find what they're looking for when they arrive at your site. Intuitive design and organizing pages based on the goal of the site will ensure that navigating your website doesn't lead to frustration and being stranded in the middle of nowhere.
 4. A visual extension of your brand
Your website is an extension of the brand. It's key to build an online environment where your brand is properly conveyed in both look and feel. And if you don't have the resources to create a custom website from scratch, there are many pre-existing web templates available to serve a variety of needs.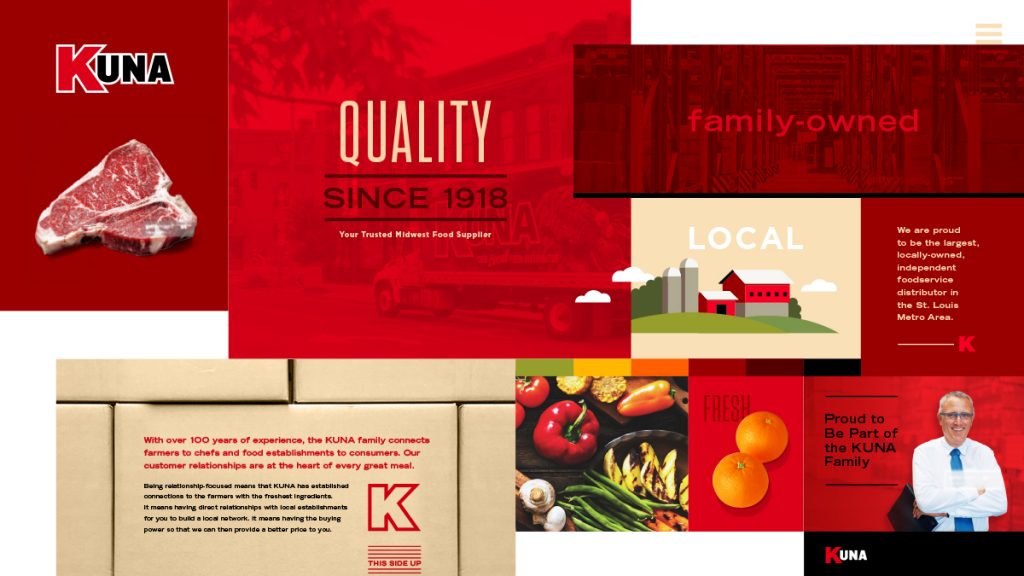 5. To stock or not to stock
Everyone has seen those cringe-worthy pictures on a site that scream that they're bad stock photography. However, sometimes stock serves its purpose and doesn't seem out of place. For KUNA, we needed over 90 images for the entire site. We ultimately decided to do a combination of existing photography from KUNA, custom photography we shot on site, stock photography and illustration to depict the wide array of products and services while maintaining a consistent look.
 6. What you say and how you say it
Hey. Hi. Hello. Howdy. Good day.  What's up? These are just some of the many ways you can greet a customer… and that's just the introduction! Choosing what words you use to communicate your message will help set the tone of your brand and indicate to visitors of your site how you want them to think and feel.
 7. Leverage the power of SEO
If you want to out rank your competitors when a potential customer searches your industry or area of business, you need to put the right words in the right place. Switch worked with a third-party vendor to ensure that the right SEO (search engine optimization) terms were integrated throughout the site in key areas. How the copy scored on SEO tests prior to being pushed live helped ensure that the site would be successful during search queries.
 8. Responsive design that's flexible but consistent
As of October 2020, 43% of website visits are done on mobile. What does your site look like on  mobile compared to desktop? What happens when you make your browsers larger or smaller? How do certain items load and come onto the screen? Just like the design and copy set the tone of your site, so too does the functionality. Your designers and developers have to be in constant communication with one another so that they set each other up for success.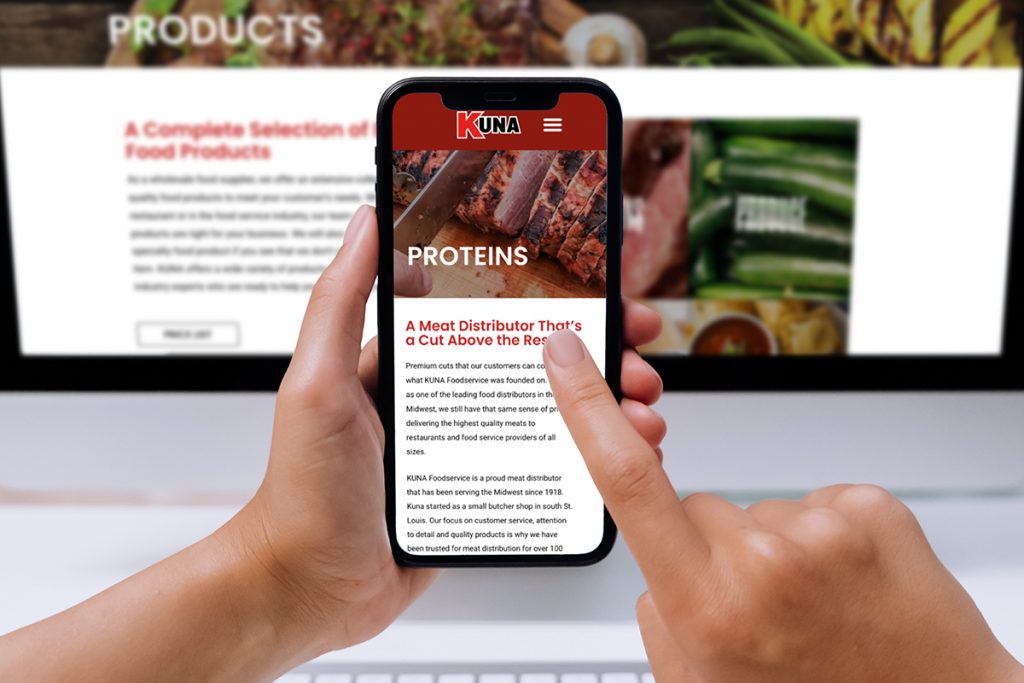 9. A future-proof CMS solution
A Content Management System (CMS) not only serves as your infrastructure during the build-out of your site but provides long-term management of your content. Your website will have different requirements to suit your needs, but in the case of KUNA, we knew that messaging, imagery, and copy would inevitably be updated over time by the KUNA marketing team. Choosing to build the website with a WordPress content management system paired with Elementor, a front end website builder, allowed their non-technical team to manage the marketing and evolution of the website moving forward.
 10. Set up Google Analytics and tracking
Google Analytics is an amazing insight tool, and best of all, it is completely free. Knowing the number of visitors to your website, how long each session is, and what pages are most visited will help determine the success of your newly designed website and what tweaks you could make to optimize it for peak performance. If you want to take it a small step further, installing Google Tag Manager will provide additional control and flexibility over what and how you track.
Redoing the website for KUNA Foodservice provided a unique opportunity where the Switch Brand and Digital Teams could create a web experience built around a combination of storytelling, branding, marketing, and strategy, leading to food service success.
Are you having trouble knowing what your next marketing step should be?
Contact Chris Jobst
314.206.7804 or ChrisJ@switch.us