Rock climbing, kayaking, mountain biking, and disc golf don't usually fit into a day's work, but Switch isn't your usual workplace.
So, when BullFrog Sunscreen needed a fresh activation to fit in alongside these activities at the GoPro Mountain Games, they called us.
Each year, the GoPro Mountain Games brings athletes and enthusiasts to Vail, Colorado, to celebrate four days of mountain fun and highlight an active outdoor lifestyle. BullFrog Sunscreen had taken part in the festivities in years past, but wanted to ramp up their presence with a bold, creative engagement that helped connect people with their products.
Switch was charged with showcasing the three BullFrog Sunscreen product lines – sweat-resistant Land Sport, water-resistant Water Sport and Mosquito Coast, a combination of sunscreen and DEET-free bug repellent – for the athletes and attendees at the event. BullFrog wanted to distribute a significant number of samples, all while increasing social media impressions.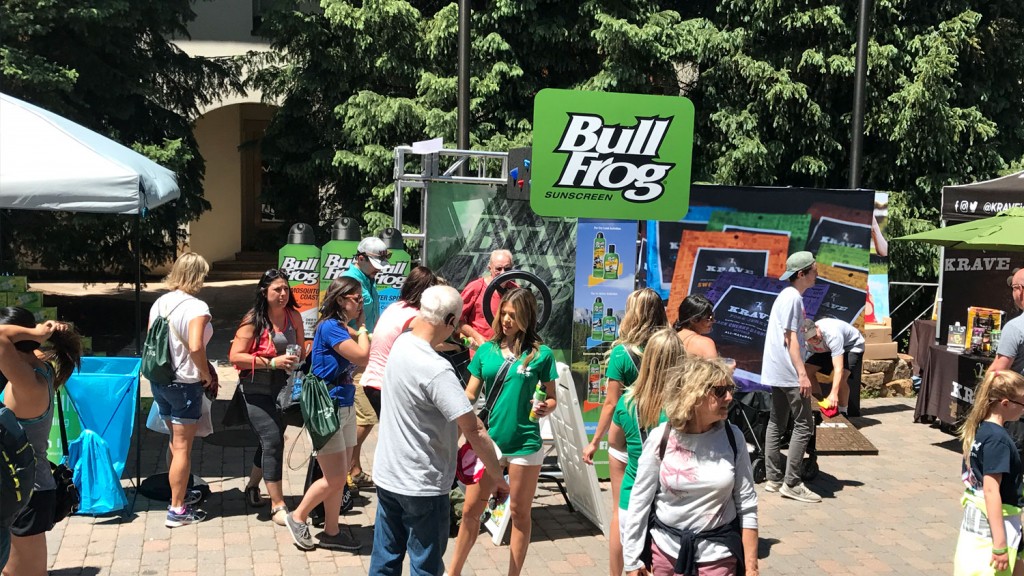 With 60 days to present concepts, refine the plan, acquire assets, hire and train ambassadors, design and print creative assets and execute the activation, the timeline was tighter than a slackline, but Switch went to work with our trademark enthusiasm and flexibility.
Emphasizing the strength and lasting power of BullFrog Sunscreen, we created an activation that would test guests' ability to hang from rock climbing grips for a timed challenge. What's more, we added a GIF generator to the challenge to address the pics-or-it-didn't-happen attitude of our target audience.
As guests took on the rock climbing structure, brand ambassadors were we able to capture imagery that stands out, and share files with participants immediately. Those who posted the GIF to their social media accounts using the designated hashtag received a full-size bottle of BullFrog Sunscreen. Mother nature even got in on the action, providing lots of sunshine to drive demand for the product and overall interest in the BullFrog Sunscreen brand.
As the sun set on the final day of the GoPro Mountain Games, multiple creative elements, outgoing brand representatives and perfect weather had allowed us to bring ideas to life in a successful, engaging activation. BullFrog Sunscreen had accomplished their sampling goals and achieved a huge social media push, and Switch was pleased to add them to our list of happy clients.