Before, brands had so many strategies to push product trial – now, all of that has changed. Experiential marketing teams and brands have far less ways to entice and win consumers over. Brand experience tours have been put on hold. In-store sampling has been put on hold. Sponsorship activations have been put on hold. Events have been postponed or cancelled. When face-to-face access to your target audience has been eliminated and all forms of product sampling have been put on hold, what can brands do to get their products in the hands of consumers? Well, the answer is sometimes much simpler than you think.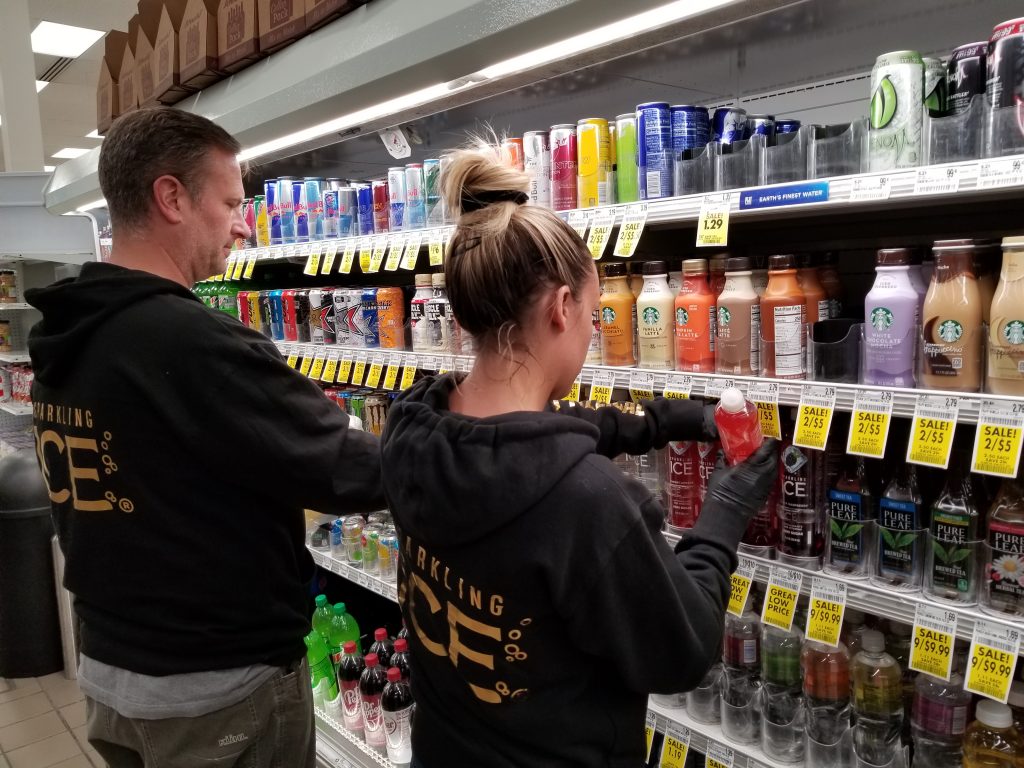 Be Prepared to Pivot in a Minute
One of the most competitive categories in the food and beverage industry is the "better for you" brands – more specifically, the "better for you" beverage. From kombuchas to sparkling waters to fresh-pressed juices, this category is loaded with options that are all competing for the attention of the same consumer. Since unveiling a new field marketing campaign last year that focused on naturally sourced colors, Sparkling Ice has proven to be a strong brand in this category and was looking to increase brand awareness and sales heading into 2020. However, this was before the world felt the effects of COVID-19.
The single most important task for Switch is being able to adjust to this new normal and help solve our clients' marketing concerns during this trying time.
Switch started a 30-week mobile marketing tour at the beginning of March for Sparkling Ice – even though it was just last month, it feels like a lifetime ago. The tour was going to stay in each market for two weeks with one bigger event, and then blitz the market with guerrilla sampling, retail demos, and smaller community events, to name a few strategic moves. Like the rest of the world, we quickly learned that large events were forced to cancel due to COVID-19. Soon after, all sampling demos and events came to a screeching halt. Instead of giving up and heading home, we decided to think on our feet and pivot to what we could do to help our client and their target audience.
After discussions with Sparkling Ice, we decided to refocus the goals of our tour team.  Open bottle sampling wasn't an option, so we initially focused on retail demos where we offered a free bottle of Sparkling Ice if a consumer made an in-store purchase (just show proof of purchase). In 10 demos, they did 711 BOGOs, averaging 71 per account. While this strategy was effective, stricter stay at home orders and store policies limiting the number of people inside at one time began to spread nationally. It became clear we needed to figure out how best to get product into people's hands.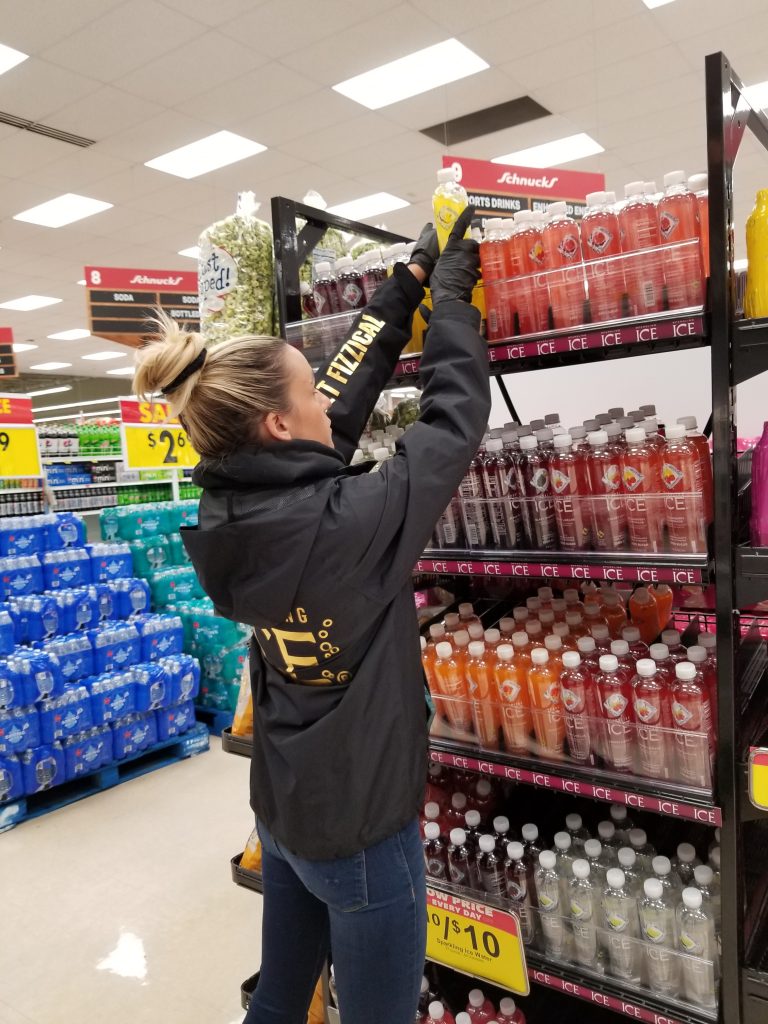 A Sparkling Solution for the Client and Consumers
While a toilet paper shortage was all the rage, it was clear that consumers across the country were also thirsty. Demand and sales for Sparkling Ice significantly increased in March and April, and the sales team needed help restocking. Switch and Sparkling Ice decided to implement a merchandising program to help out the sales and delivery teams at the point of purchase. We needed to not only merchandise store shelves but also the refrigerated sections, end caps and special displays for both Sparkling Ice and Sparkling Ice + Caffeine. In just 3 days, Switch recruited and trained 30+ brand ambassadors to become merchandisers and set schedules and routes with store lists provided by the Sparkling Ice sales team.
The goal: Safely get product on shelves, and ultimately, in the hands of consumers.
Switch actively communicated with all employees in the field to ensure proper health protocols were being met. Making sure we maintained safe and healthy merchandising was of the utmost importance. We equipped all of our merchandisers with a letter that stated they were essential to Sparkling Ice's business as all of our markets had "stay-at-home" orders in place. Additionally, we also provided Vendor ID badges that comply with stores policies. Once we were fully prepared and entered stores, the positive feedback from consumers and retail partners was instantaneous, and the results were clear.
In just 4 weeks, we visited 1,750 stores in 15 markets and stocked over 11,000 cases.
Additionally, we had our tour team traveling market-to-market along their tour route, merchandising as many stores as they can in the 4-5 days they are there. The success of the program led to adding additional markets. This new merchandising strategy helped sales and delivery teams that were overwhelmed while keeping people in different markets employed. Most importantly, it provided comfort to consumers by making products easy to find in a time when they needed to move quickly and efficiently through stores.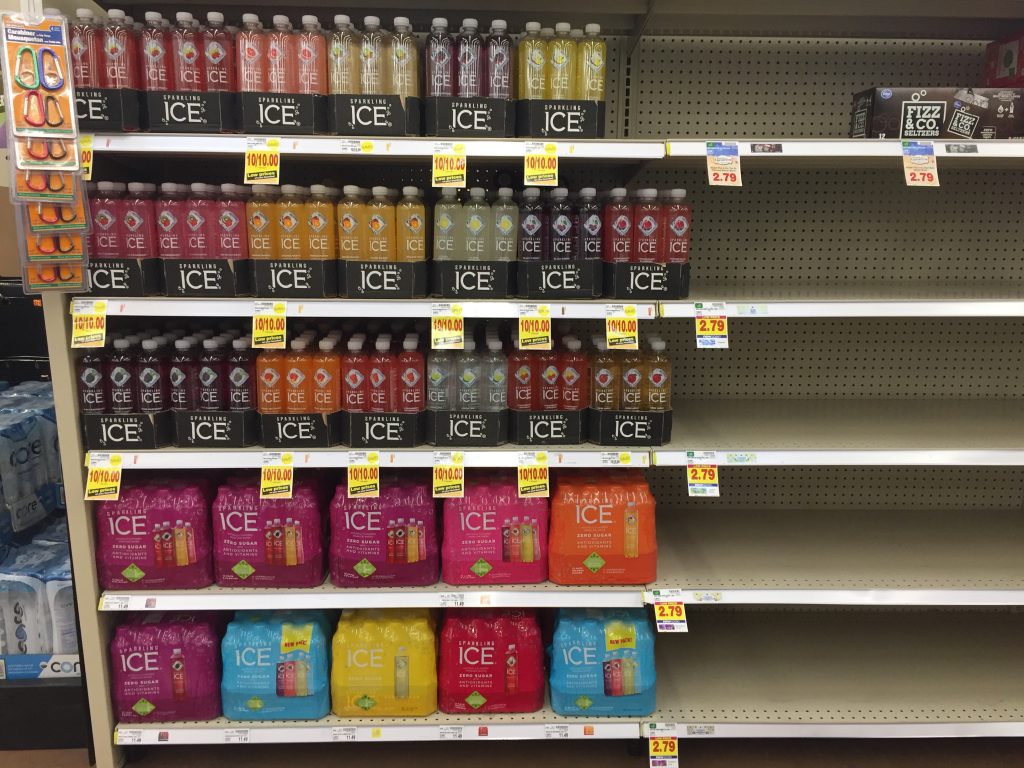 Ensuring Product Inventory Is Essential for Brands
Product availability is the new sampling. It's really that simple. Consumers can't try what they can't buy. And if you have been to a grocery store in the past month, you know that stores are being stretched thin as consumers reach for anything they can get their hands on to stock up. The spots on the shelf where their favorite brands use to be are now collecting dust without information on availability. What this creates are new opportunities for other brands to be in the forefront and win over consumers. Yet, in order to do this, these brands have to make sure they are prepared to meet the challenge. As marketers and businesses of all sizes continue to operate in this new normal, it is important to think safety-first, and then pivot creatively and decisively to adjust in this changing marketplace. Because you don't want your consumer to be left empty-handed.
Do you have questions about experiential or field marketing or want to chat about how to pivot your business during this time?
Contact Chris Jobst
314.206.7804 or ChrisJ@switch.us