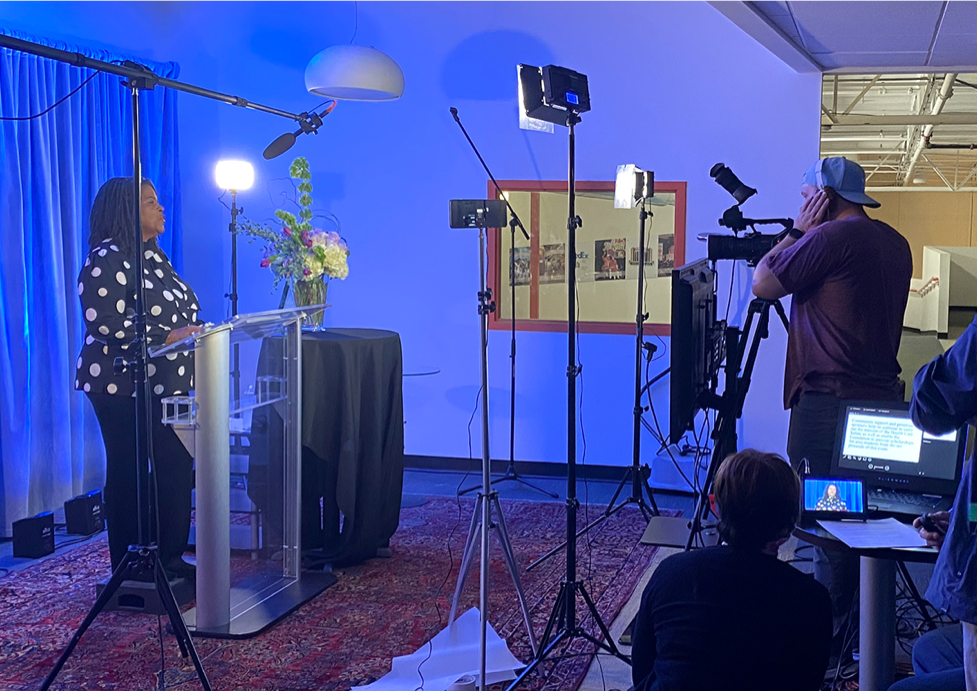 Not every music festival is a Coachella or SXSW. Not every movie looks like a Marvel superhero blockbuster. Not every band sounds like The Rolling Stones (though there are many that try). This same idea applies to the meetings & events industry. There are too many types of events to list. Galas, fundraisers, product launches, sale meetings… the list goes on and on. And that's not even talking about how to approach each of these types of events.
So, when a company says, "Yes, we produce virtual events."
Well, there isn't one type of virtual production.
While many companies are just now pivoting from live events to virtual events as an alternative plan, Switch has been evolving their virtual meetings & events capabilities. As we're facing the reality of COVID and its effects on our industry, we see many scrambling to find a way to do digitally what they typically do in person. Live events will come back, but for now, businesses need capable digital production partners to help communicate with their target audience.
Now, more than ever, people are listening. They are on social media, news sites and streaming services, soaking in as much content as possible. Companies can't afford to wait until live events return. Everything from commencements to concerts to the world's largest tech conferences is going virtual. Why is your business sitting on the sideline and waiting? Take a look at the possibilities that virtual meetings & events hold.

The Future of Meetings & Events Has Long Been Here
Everyone knows what a live meeting looks and sounds like. But it has only been throughout the last couple of months that many people are finally throwing around virtual and hybrid meetings & events. Truth be told, these terms and ideas weren't born out of necessity from COVID-19. Virtual events have long existed online. While they might be more common in recent years, hybrid events have as well, as they serve both in-person audiences and remote-viewing audiences. Switch has been producing remote broadcast events for decades; connecting live audiences via satellite, telephony and "streaming", even before the internet was running our lives. Yet, even within just these categories, an array of options is available for companies to connect with audiences – we are well versed in all the platforms and solutions available.
Just in the past few months, Switch has produced virtual events for Webster University, Arts United STL, The Catholic Health Association, The St. Louis Muny, and more. Each one was unique in its own way, utilizing technology to capture content and deliver it to viewers across the world. From teleprompters to coordinating multiple screens to integrating third-party feedback during live feeds, there are many moving parts to a virtual or hybrid production. While none of these tools are new, it takes a company with experience to master these storytelling elements.

There Aren't New Hurdles – Just New Solutions
Adaptability has always been key in our industry. No event goes off just as it was planned. Adjustments are made on the spot, and new factors come into play. One could argue that people who work in meetings & events were the best suited for the curveball that 2020 threw. COVID-19 hasn't changed our ability to adapt in challenging situations. Our industry is built upon delivering creative solutions on the fly.
Many people seem to think technology presents new hurdles. In fact, most of the hurdles are the same. You still have to capture the audience's attention. You still have to deliver a message. You still have to rehearse the show. Just like with any in-person live meeting or event, production quality matters. Whether it's a physical or digital space, a stage still needs to be built. We need to create an environment that is an extension of your brand for the best possible message. It's essential to have a production team that has experience with the intricacies of a show, no matter how it's presented.
Socially-distanced Storytelling Tailored for Your Goals
Every business that comes to us needs a specific custom solution. What works for one company may not work for another. Part of our discovery process is understanding your goals and figuring out what is the best way to bring those to life. Our NEW state-of-the-art soundstage was built to expand the options we provide our clients. We can safely film live and streaming broadcasts, commercials, presentations and more so that your goals are met.
If you don't feel comfortable coming to us, we can bring the technology to you. We can go to your space, staying socially distant and wearing a mask, hand sanitizing and going through all of the precautions, including keeping our equipment clean when we are on location. A great story can be told anywhere, but it's essential that you are comfortable and that we are keeping safety policies in place throughout the entire process.

Reach a Larger Audience than Ever Before
An advantage of virtual events is that you can address your key audiences from wherever you are. You don't have to get on a plane, deal with scheduling flights and worry if the hotel bed is the right comfort level. Now, you can reach multiple people, multiple audiences, multiple vendors, multiple outlets for your product and services without ever picking up your suitcase.
But most importantly, you just upped the attendance from what would have been in the ballroom or convention center. Previously, there might have been people that couldn't attend an out-of-town conference or lecture because of a family commitment that week, or perhaps, the company can only afford to send so many employees. That narrow gate of entry has become increasingly wider and more accessible. You now have the attention of more eyes and more ears listening to your message. What are you going to say when you have their attention?

A Message that Lives on Past the Stage
One of the benefits of having virtual events is things can live on beyond the particular time of the event. And by creating a virtual world around this event, we can create opportunities for audience members to come back and revisit pieces. That's the beauty of the virtual event – having items on-demand, reinforcement through games and interactions – your message will resonate even more with your audience, creating a long-lasting brand experience.
Experiential marketing is about elevating the brand experience. Meetings & events is an essential part of that. We're all drawn to experiences. And in the end, it isn't the fact that experiences are in person that makes meetings & events so effective, it's about connecting people. Companies don't have to have 100,000 people in a convention center to make these connections. Content can still be created. Stories can still be told. Switch knows how to communicate these messages and has shown through 40+ years of experience how to bring people together. We might be utilizing technology a little differently to achieve the goals of our clients, but that has only opened up more unique opportunities. How we bring your message to life is where the conversation starts. With your goals and our tools, the possibilities are endless.
Are you ready to start planning your company's virtual meeting or event? Contact Lanie Thomure to get started.
314-206-7889 or laniet@switch.us