Your future starts here
Find your career path
Fulfill your dreams 
Explore your potential
Start Your Journey 
Better Yourself
There's a good chance you've seen or heard a motivational phrase like these used in advertising for a college recently. It's a classic approach in higher education marketing that most likely won't go away any time soon. Colleges collectively spent $2 billion on advertising in 2018 and $2.2 billion in 2019, according to brand consulting company Kantar. Even if there's no shortage of college marketing and advertising, are audiences able to distinguish one school from the next when shown similar advertising? When every school is basically saying the same thing, it's impossible to gain ad retention with your target audience and convince them that you are the right school that will deliver on this shared promise of success.
When Lindenwood University chose Switch to create a new campaign for them, we knew we needed one that felt disruptive, different from any other university ad campaign. We had to cut through the noise if we were to stand out in a crowded St. Louis market, and this campaign serves as an invitation to audiences to discover what the school really has to offer once you dig deeper.
Here is a video that serves as an introduction to the campaign:

It's a campaign that we hope might inspire you to learn more about Lindenwood University while serving as an example of how you can approach marketing a product in an unexpected way. In the spirit of higher education, here are a few lessons that might help you when developing your next marketing campaign.
Lesson #1: Have Some Self-Awareness
In 1962, Avis realized that Hertz was beating them in the rental car market and that Hertz was always going to beat them. So, rather than trying to claim the #1 spot in their new marketing campaign, they said this instead: "We're No. 2. So we try harder." The "We Try Harder" campaign was so successful that within a year, Avis went from losing $3.2 million to earning $1.2 million—the first time it had been profitable in more than a decade. Not only that, but "We Try Harder" messaging resonated with audiences so much that it stuck around into the 2000s.
This is just one example that proves a bit of self-awareness in marketing can actually be a very good thing. Sometimes it takes confronting hard truths to create a campaign that rings true to the brand and for your audience.
Enter Lindenwood University – a small but historic school nestled in the heart of St. Charles, a suburb of St. Louis, Missouri. Like Avis, you could say that Lindenwood is a bit of an underdog in the collegiate landscape. Not only was Lindenwood aware of this fact, but so were the audiences that Lindenwood was trying to attract.
We found through market research and talking with high school students, parents and grandparents of potential students, and working professionals, that many people had heard of Lindenwood, but rarely did they consider it or recommend it compared to other schools in and around St. Louis.
This was a big hurdle to overcome. It was through our research that we discovered most of what people thought about the school was secondhand knowledge, or their perceptions were simply outdated. People just didn't have enough information to form an educated opinion. A lack of awareness was critical to people not researching and discovering more. Once we became aware of what people really thought about Lindenwood (or how little they thought about it), it helped inform what we had to say and how to say it.

 Lesson #2: Show, Don't Just Tell
 Sometimes the only thing you need to do to differentiate yourself from your competitors is establishing a unique tone of voice. When approaching the new campaign for Lindenwood, we wanted to have a campaign line that was unexpected. And part of that unexpectedness was not just what we were saying, but how we were saying it.
Keeping the self-awareness in mind, we bounced around a lot of ideas that all centered around two main thoughts: 1.) People didn't know about Lindenwood or didn't know enough 2.) We have to get people to take some action and research Lindenwood. Ultimately, we wanted to increase the number of people scheduling tours and applying, but first, we had to get them in at the top of the funnel where they became aware of Lindenwood and then started their research.
This led us to create a message and tone of voice that was direct and attention-grabbing. So, we asked people to… "Rethink What You Think About Lindenwood University."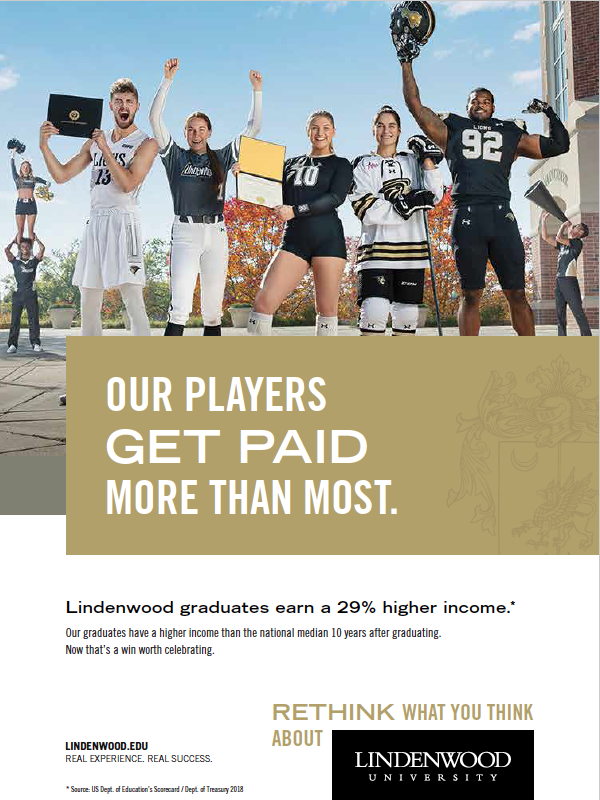 With an impactful call-to-action, the campaign line makes people re-examine what they already know – or don't know – about Lindenwood University and drop their preconceived notions to hear what the school has to say. We wanted to catch people off guard who might not expect this tone from a university.
We couldn't just tell people to Rethink without showing images that hammer home this point. The campaign began to come to life when we thought of situations that could be easily misread to emphasize how quickly people jump to conclusions or label something without stopping to think about it. Like the school, we wanted to depict in both the copy for the campaign and in the visual storytelling an unexpected reveal that makes people rethink what they first thought.
Lesson #3: Disrupt the Classroom
 One of the biggest differences with this campaign compared to any others we had seen from Lindenwood University previously – and to a large extent from the other universities they were competing against – was that we weren't showing the campus in much of the campaign. In early meetings, we had heard from the school about the iconic pillars that signal one of the entrances to campus and how that has become synonymous with the school. However, in testing, static images of buildings or monuments on campus without people didn't test well – the pillars only mattered because the school thought they should matter.
If we wanted to reiterate this idea that you need to look beyond what you think you know about Lindenwood, then we had to show imagery and situations that went beyond what you would expect to see from Lindenwood.
We knew the print and out-of-home ads had to differ from the radio and video ads, while still communicating a cohesive campaign message. Again, with it being an awareness campaign, we had to keep in mind a large audience that might be seeing communication from Lindenwood for the first time. With the video series, a decision was made to depict scenarios that would feel familiar to our audience: a dinner date; a kid in his bedroom; two friends talking in the back of the classroom. Each of these situations are relatable for both the high school students we were trying to reach and for the influencers (parents, grandparents, teachers, relatives) of the high school students. We used metaphors to communicate concepts – leveraging established tropes and staples from storytelling. This gave us the freedom to not feel confined to just the expected college campus scenarios and to present moments with a unique twist that made the viewer rethink what they thoughts was going to happen.
With the print and out-of-home series, we took a similar approach but with the words being unexpected. We presented exaggerated college moments that looked over the top at first glance and combined them with headlines that caused people to stop in their tracks. By leaning into phrases that can be easily misinterpreted at first glance, we pulled in readers to discover what Lindenwood is really saying is… and then we hit them with what we really wanted to communicate. Which leads us to our final lesson…
Lesson #4: Don't Forget the Facts
While we knew the hook of this campaign would be unexpected and disruptive, it couldn't be the only thing that the campaign rested upon. Thankfully, the fact of the matter is that Lindenwood has the facts to sell their story.
One of the pleasant surprises of the campaign is not just the reveal once you get past the headline or the initial situation being depicted, it was that there were still stats and selling points weaved into each individual narrative. Each piece highlights different benefits of Lindenwood, from the number of clubs and organizations, to a top-tier MBA program, to the number of degrees they offer.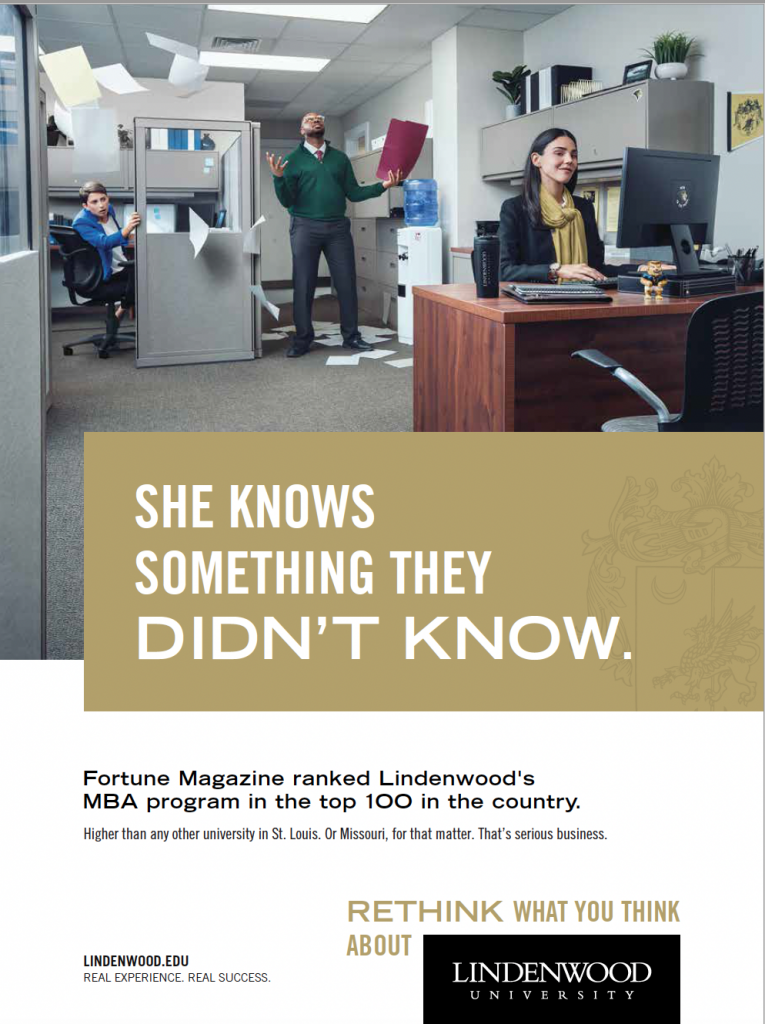 At the end of the day, it became a juggling act. Much like a college student juggling work, classes, social life, family, etc., the campaign walks a fine line of having to do a lot in a short amount of time and space. It had to be simple and direct, but not expected or boring. It needed to show off the facts, but not be stuffy. It needed to be memorable and a little bit daring.
The same can be said about those indelible experiences and lessons that college students graduate with. A student will remember the facts or lessons from a particular class if the teacher engages them and forms an authentic connection. If that teacher creates a learning experience that's truly memorable, that student will carry it with them for a lifetime.
You just have to make them think in a way that stands out from everything else.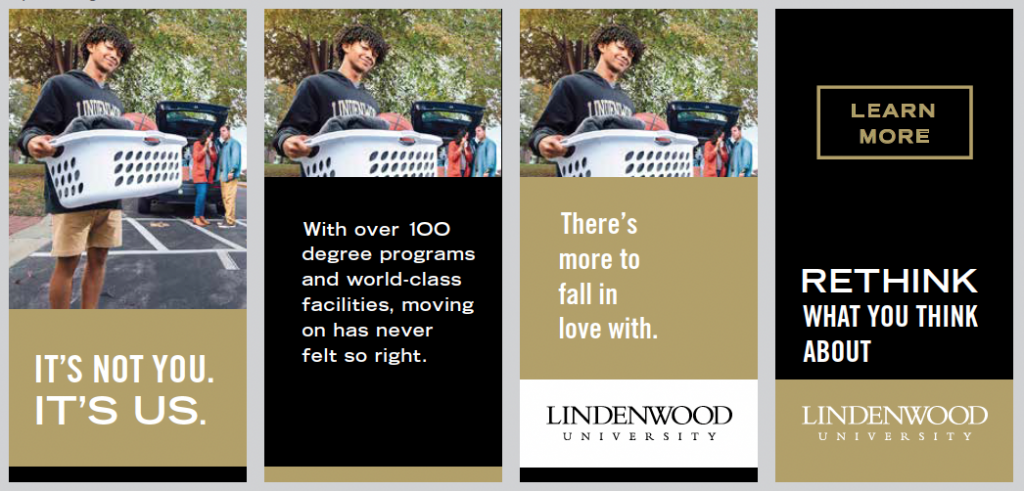 Learn how your brand can make the grade by contacting Chris Jobst.
314.206.7804 or ChrisJ@switch.us