There's no one right way to bring a product sampling campaign to market, but there's certainly a lot of wrong ways. We've all seen it. Brand ambassadors that don't have knowledge of the product. Lackluster assets that don't make the footprint stand out and speak to the brand. An overall experience that doesn't leave you wanting to learn more, yet alone even remember the brand name. As you know, the sweets and snacks industry is a crowded one, and the only way your brand voice is going to be heard is if you get out there and make your voice loud and clear. And as so many brands start up their field sampling programs again after pausing for the past 15 months, it's essential to have those planning conversations NOW so that your brand's voice isn't lost in all the other noise.
So, let's get back to the basics – the essential elements that lead to a successful sampling program. Take a look at how we applied some of the core tenets of product sampling to engage customers and optimize goals for the brands we work with.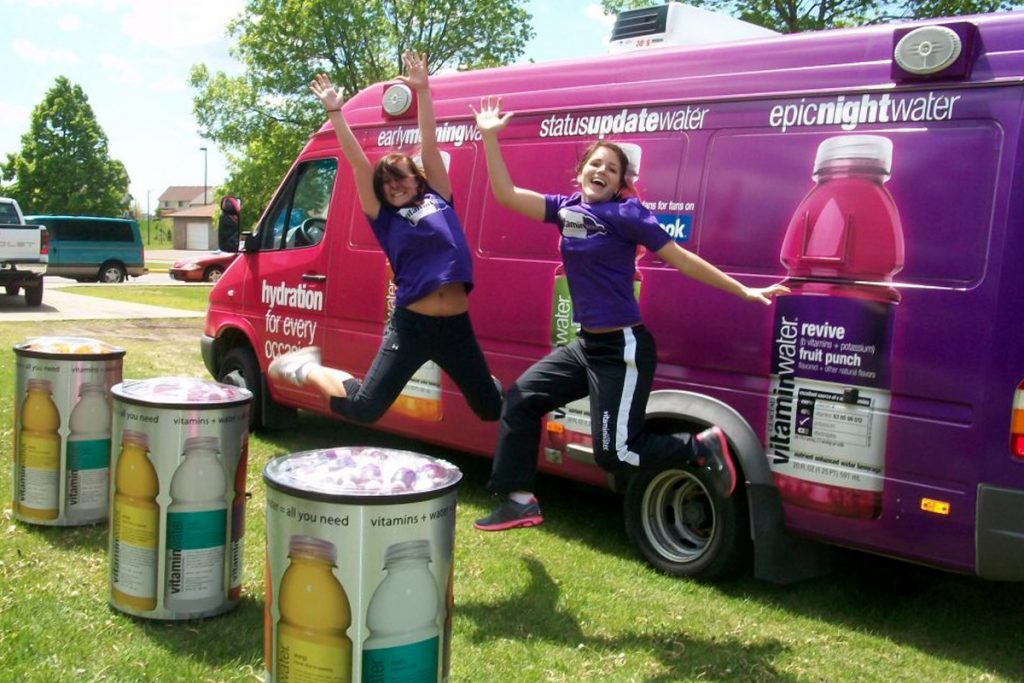 Devise a Strategy to Drive Sales… Which May Include a LOT of Driving
The Switch-operated glacéau hydration program was the largest vehicle-based field marketing activation in North America. The glacéau tasting vehicle (GTV) fleet, which consisted of 76 branded vehicles, supported five brands (Vitaminwater, Powerade, Fuze, NOS and smartwater). Tasked with driving consumers to retail via trial, Switch Hydration Ambassadors educated, engaged, and entertained consumers face-to-face. The teams utilized brand talking points, flexible branding tools, custom engagement elements, and interactive games. Sampling took place at established or single-purpose events; along with guerrilla tactics to ensure maximum exposure and coverage. In the end, our team of 571 members hit 55 markets and led to distributing 1.5 million samples. You could say we put the drive in the concept of driving sales.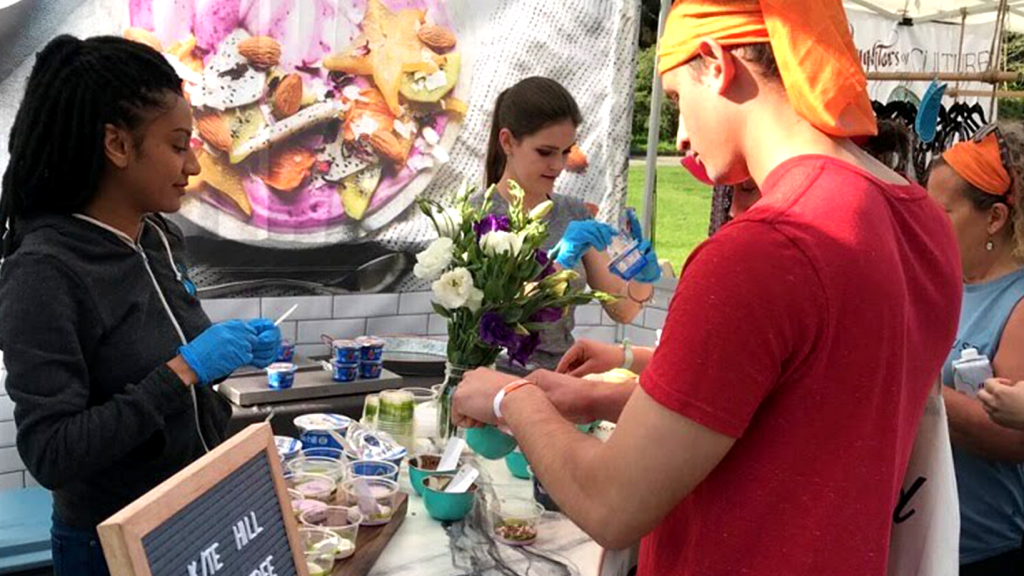 Incorporate Elements and Tactics that Create a Unique Customer Experience
Kite Hill couldn't just tell people their non-dairy yogurt was tasty. It needed to prove it with memorable sampling events and consumer interactions. At Wanderlust, we built a custom pop-up that served build-your-own yogurt parfaits and cream cheese toast with a special "Unicorn Toast" recipe just for Wanderlusters. From the extended height and unique canopy design to the sleek, upscale white tile, our booth design stood out from others at the festival in look and feel. Guests to the booth were also encouraged to fill out almond-shaped cutouts with a mindful mantra while they were waiting in line or after they'd engaged with the booth. This simple but engaging activity fits right in with a festival that focuses on transformational experiences. In the end, over 2,000 samples were distributed, and Kite Hill was able to connect with their target audience in a meaningful way.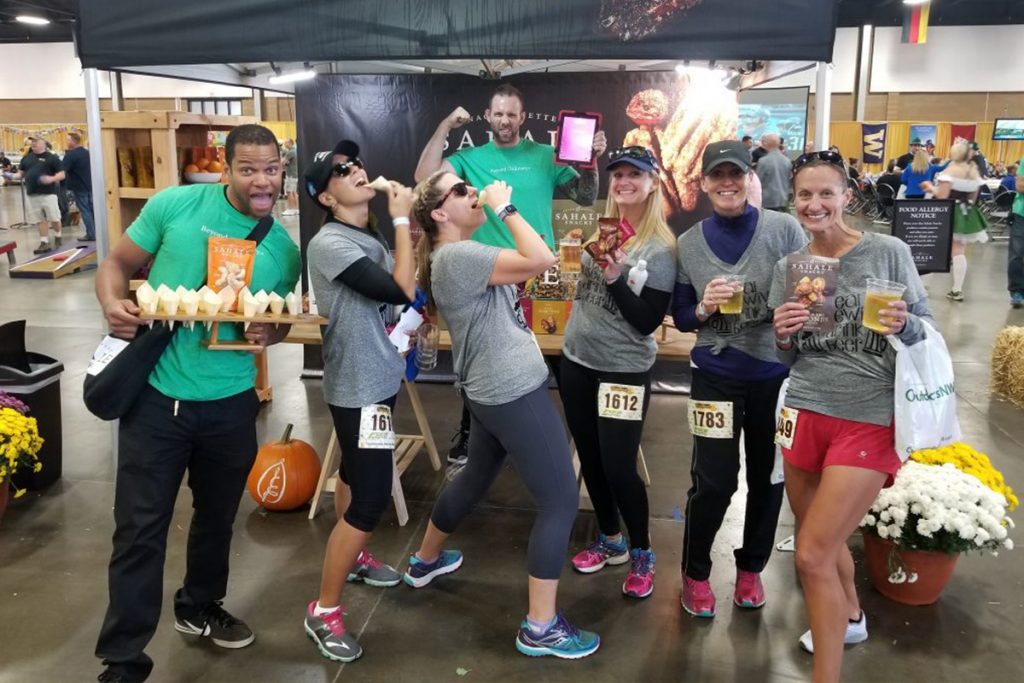 Train Brand Ambassadors in How to Engage, Not Just Inform
To encourage an authentic, personal connection between consumers and the Sahale Snacks brand, we created a custom sampling experience that highlighted the wide array of flavor options through conversational communication. Over the course of 8 weeks, Switch launched a field marketing tour for Sahale Snacks designed to grow awareness and encourage trial in key cities where distribution is already established. BAs engaged directly with consumers, asking them about flavor preferences and handing out a custom-chosen blend for consumers to try while educating the consumer on Sahale's story. So, it wasn't just a team passing out samples, but a series of interactions with guests that were tailored as personalized experiences. The field team handed out over 130,000 samples and was able to prove that Sahale is a brand that cares and listens to their customers.
Are You Ready to Start Your 2021 Sampling Program?
Experiential marketing is about elevating the brand experience. We're all drawn to experiences. And in the end, sampling programs are about much more than getting product in hands, they provide direct, brand-to-consumer experiences.
Switch has built engaging and effective brand experiences for sweets and snacks brands like Muscle Milk, barkTHINS, Luna, Volpi, Smashmallow, and many more. In our 40+ years of experience, we've shown how we can get the conversation starting with your target audience and move the needle towards your sales goals.
Do you have a sweets and snacks brand that you want to take on the road?
Contact Chris Jobst
314.206.7804 or ChrisJ@switch.us