If there was one word we heard more in 2020 than virtual it would be pivot. It was what businesses were told to do to combat the financial effects of the pandemic. If you generated most of your revenue in a brick and mortar, you had to focus on selling online. If you had a restaurant, you had to figure out a plan to offer curbside to-go. But what happens to an industry that's historically predicated on creating in-person experiences?
Experiential marketing invites audiences to interact with a brand to create a memorable impact. However, 2020 gave experts in this industry a challenge no one predicted or planned for. While in-person experiences became non-existent, Switch didn't just talk about the p-word – we devised winning strategies for our clients. Take a look at how we pivoted four campaigns and consider these four tips when thinking about what it means to be truly experiential.
Tip 1: Dive Head-First in a New, Creative Direction
Switch collaborated with Abrams Books and Diary of a Wimpy Kid author Jeff Kinney to pivot a variety-themed stage show into a safe and engaging drive-thru experience for fans. In 2018 and 2019, we turned the standard book signing into an immersive staged event. And in 2020, we evolved that pop-up-book-on-stage experience into an innovative drive-thru tour.
"The Deep End Drive-Thru Pool Party" provided an opportunity to meet the author and dive into the new book, "Diary of a Wimpy Kid: The Deep End." Our in-house team created pool noodle sculptures, water games, and a tunnel that felt like you were under water with the characters. Each event ended with Jeff Kinney passing an autographed copy of the book via a pool skimmer and posing next to vehicles for a photo opportunity. The sold-out tour visited 19 cities in 20 days, showing how in-person events can pivot and stay afloat.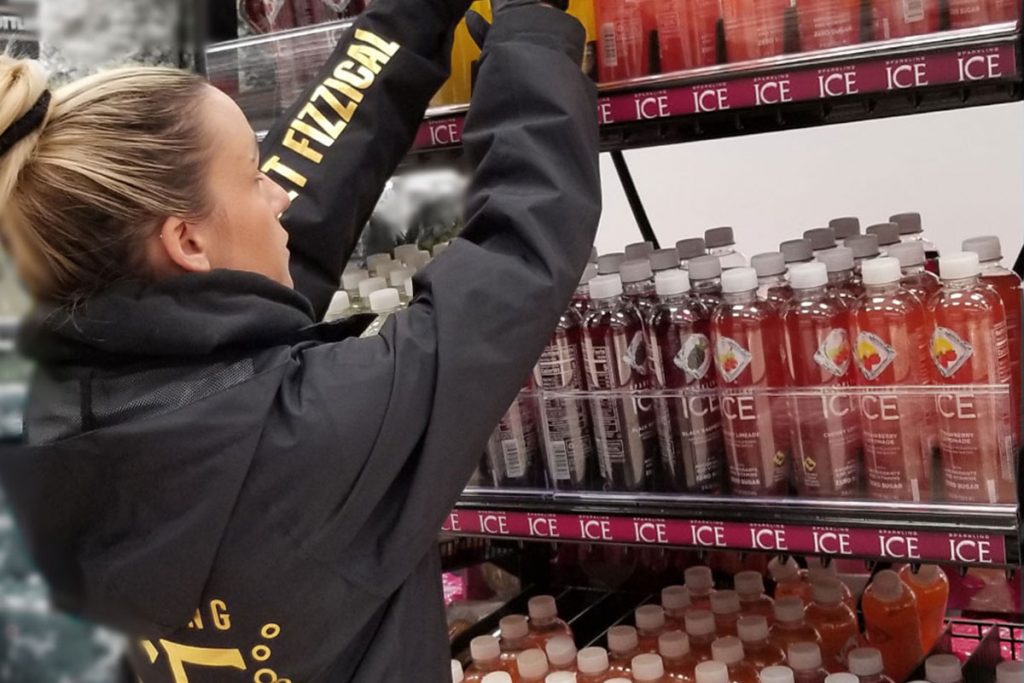 Tip 2: If You Panic and Freeze, You'll Miss Exciting Opportunities
Switch and Sparkling Ice started a 30-week mobile marketing tour at the beginning of March, but COVID-19 brought that plan to a halt. We had to quickly rethink our plan, and that's when we decided to implement a merchandising program to help out the sales and delivery teams at the point of purchase. In three days, we recruited and trained 30+ brand ambassadors to become merchandisers and set schedules and routes with store lists provided by the Sparkling Ice sales team. Within the first three weeks, the merchandisers visited 1,267 stores in 15 markets and stocked over 8,000 cases of product.
The new merchandising strategy helped sales and delivery teams that were overwhelmed while simultaneously keeping people employed. Most importantly, it provided comfort to consumers by making products available and easy to find in a time when they needed to move quickly and efficiently through stores. As a result, the shelves were stocked and sparkled, and sales continued without disruption.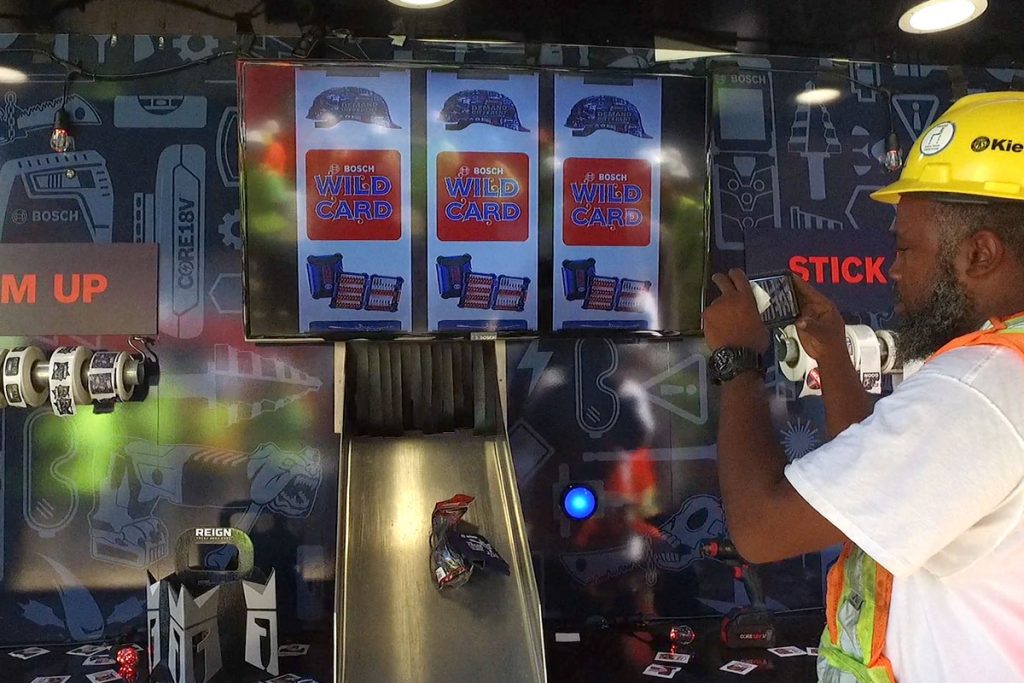 Tip 3: Audience Connection Without Audience Contact
Our 6-year partnership with Bosch has always been focused on hand-on demonstrations and safety classes on job sites, all of which has resulted in Bosch being at least 25% over their sales goals each year. But now was the time to shift our approach.
Switch and Bosch Power Tools wanted to take a different route to build brand loyalists while convincing others to make the switch to Bosch. And this included a unique way to still get our tools into the hands of those in the trades when visiting job sites.
We built an over-the-top slot machine into the side of our truck. This allowed workers to come up to the truck one at a time and take their shot at winning big. With a simple push of a button, they were able to see what they won and watch it instantly come down a slide for them to take. With every stop, we took contact delivery and sampling to a whole new level.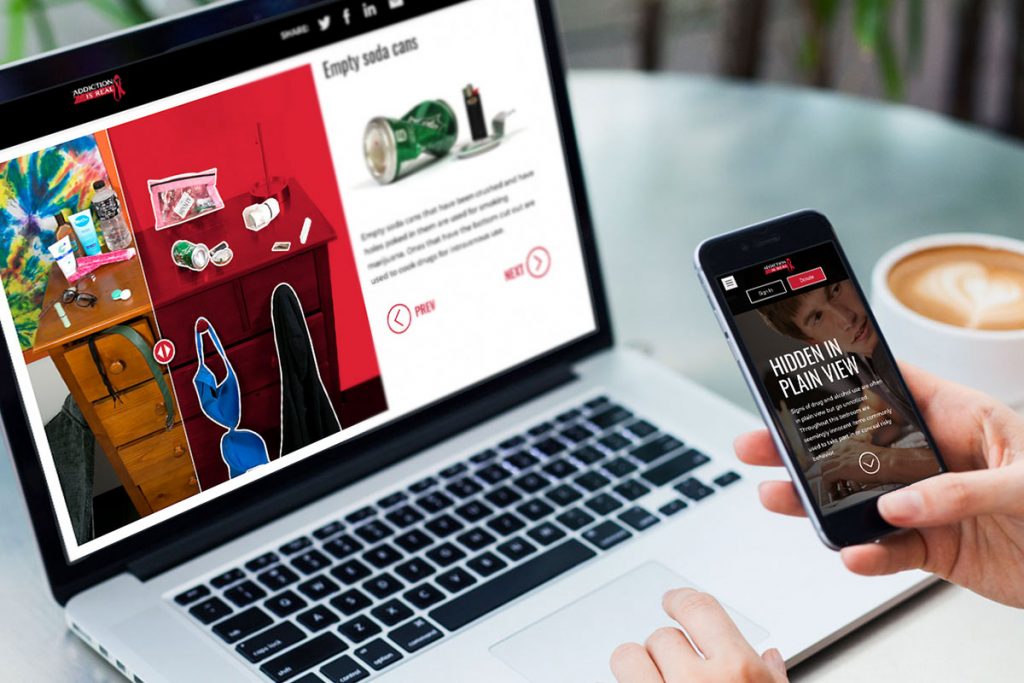 Tip 4: Find Meaningful Ways to Reach Your Audience
Hidden in Plain View is an in-person experience created by Addiction Is Real that shows how seemingly innocent items in a child's bedroom can actually indicate substance use. Parents are invited to events where they're able to walk through the bedroom and try to find over 70 items that are signs of substance use.
Switch was inspired by these immersive events when creating a dynamic, online experience that allows parents to explore the bedroom on a computer or mobile device. Instead of just filming the room and the over 70 suspicious items placed throughout, we created an interactive, digital experience where parents are able to either slide a screen to reveal the hidden items or click on items to find out if they're drug-related and how they're used.
Additionally, when Addiction is Real visits parent groups with this in-person experience, one of the organization's founders delivers a presentation with stats and tips for how to talk to kids about the dangers of drugs, as well as her personal story of her son's battle with addiction. In order to still provide these important conversation-starters during a pandemic, Switch took inspiration from this presentation and made it more accessible and engaging for parents to learn at home. DON'T WAIT is a film that incorporates interviews with parents, drug prevention experts and the brave mother sharing her son's story. Because preventing substance use starts with a conversation, the film takes an intimate, documentary-approach to really highlight these facts and stories to emphasize why it's essential for parents to not wait and talk to their kids right now.
Even in 2020 when connecting with audiences in-person presented new challenges, experiential marketing remained one of the most innovative forms of marketing because of how it offered unique shared experiences, leveraged new technologies, and engaged audiences even during social-distancing.
Are you looking to explore ideas on how you can safely activate your brand in 2021?
Contact Chris Jobst
314.206.7804 or ChrisJ@switch.us