Stuffed Puffs offers an assortment of snackable, stuffed marshmallows and encourages audiences to make "the best s'more ever." The brand came to Switch to create a booth for the 2022 Sweets & Snacks show that promoted all the flavors they carry. Sweets & Snacks is home to more than 700 of the world's leading candy and snack brands, which makes it hard to stand out and get attendees fired-up about what you're promoting.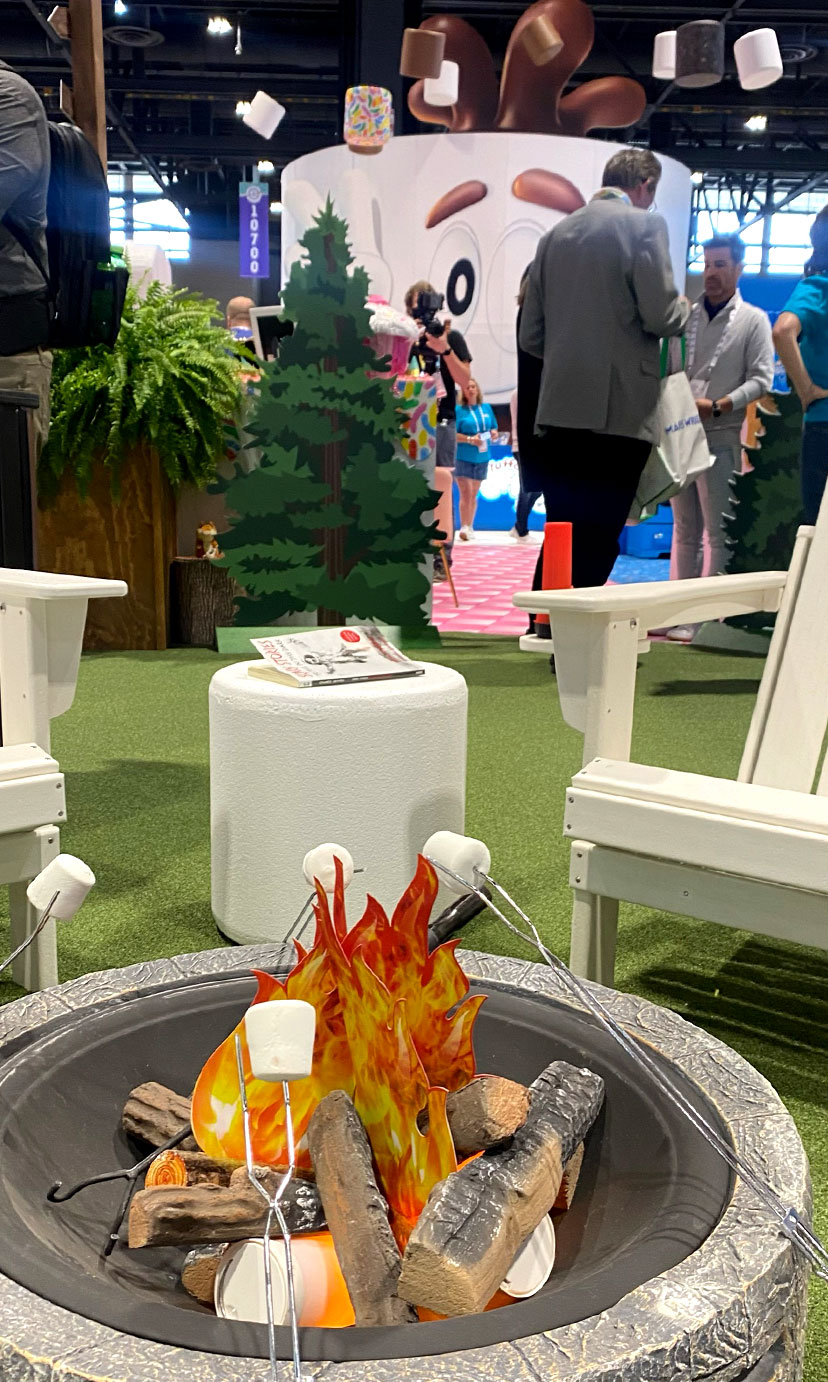 Giving attendees more than just a taste.
Between Stuffed Puffs being only two years old and the fact many conventions and shows didn't happen in person over the previous few years because of COVID restrictions, we knew that this was the first opportunity for many attendees to engage with the brand. We needed to create a space that went beyond what you would see at the event in order to make an impression. It had to highlight the unique flavors of each of the products and use the brand's personality to break through the sameness we often see at booths at this event. So… we didn't just create one experience… we created four unique customer experiences built around each of the product flavors.
One of the things that works to our advantage and sets apart Switch from other creative agencies that design tradeshow booths or production companies that handle the construction is that we actually do both in-house. From initial meetings to creating 3D renders to then taking those approved renders and walking them over to our production house, we did everything for Stuffed Puffs all under one roof. This allowed us to maintain creative integrity, work efficiently to stick to the schedule, and continually communicate and adjust quickly to feedback.
Logistically, we had to stick to size restrictions for the convention but still wanted to make the most of every square foot – from floor to ceiling. More importantly though, we wanted these areas to serve as more than just tasting areas for the BIG Bite products that Stuffed Puffs were promoting. Taking inspiration from the name, we went BIG and created immersive areas that encouraged a sense of discovery around every corner. This resulted in experiential journeys filled with photo-worthy, Instagrammable moments that invited attendees to go beyond just tasting the brand.
A space that celebrated each of the brand flavors through four unique costumer journeys, culminating in one show-stopping experience
Paying homage to where each of the BIG Bite flavors started, each experience was filled with nostalgic touches and splashes of confectionary whimsy.
"The Campground" – S'mores BIG Bites
We built on the s'more messaging with a summer camp themed space. Starting with turf, a fire pit with chairs, and trees with some woodland creatures sprinkled in, the tent served as a semi-private meeting space for people to escape from the show floor.
"The Birthday Party" – Birthday Cake BIG Bites
We created a massive pink-on-pink birthday extravaganza! Pink patterned flooring, tables, chairs, and balloons covered the space. A photo opp with a tiered birthday cake made out of Birthday Cake Big Bites (400 to be exact) was then available for attendees to share on social.
"The 1950s Kitchen" – Cookies 'n Creme BIG Bites
This room expanded on the blue packaging with an all blue space, including blue patterned linoleum floor, cabinets, table, chairs and more. We used the kitchen to lean into the retro styling and classic flavor, convey brand messaging on the fridge with magnets, and hide giveaways in the drawers for attendees to discover.
"The Candy Shop" – Stuffed Puffs Brand Story
Our final area featured all the core brand products. Starting with a larger-than-life Stuffed Puffs mascot, Smorely also doubled as a storage area. This was the main sample area where guests could grab a s'more that was made on the spot at a large, curved bar in Stuffed Puff Blue.
Stuffed Puffs is a brand that celebrates the inner kid in everyone. By creating fun-loving experiences that tapped into the child-like act of indulgence, we delivered on what the brand represents and what attendees were craving.
1,400

Square Foot Space
4

Immersive Experiences
15

Foot-Tall Mascot – Smorely
20

Suspended Marshmallows
The Result
A booth stuffed with more than you can imagine.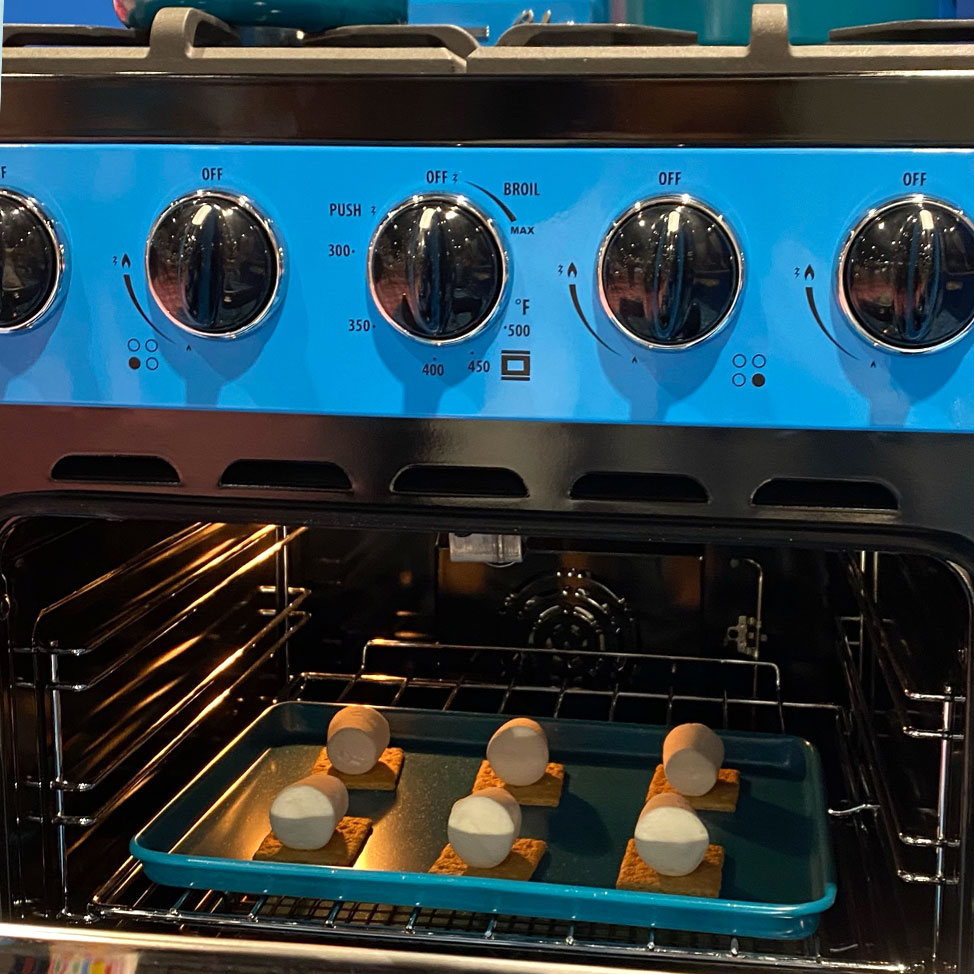 Rethink What You Think About Lindenwood University